As worldwide e-commerce sales continue to explode, and as brands constantly refine their respective online customer experiences by adding useful technologies and informative features, an interesting trend is quietly, but quickly, emerging against this frenzied backdrop of transactions: the creation and deployment of an ever-increasing collection of third-party marketplaces.
What in the world Is a Third-Party Marketplace?
Been hearing about third-party marketplaces? I'm not surprised, as they're receiving a lot of attention as of late. Most commonly we hear of third-party marketplaces in relation to Amazon but there is an entirely different category that belongs to a different set of retailers and brands. Before we jump in, let's begin with a comprehensive definition and an outline of three common characteristics.
A third-party marketplace is an online destination which aggregates, showcases and sells products and/or services from multiple third parties. In this scenario, the marketplace owner processes all consumer purchases made and then participating sellers fulfill those transactions and deliver the goods.
Because a marketplace offers products from a wide range of companies, its product selection is usually deep and diverse. In addition, its product availability is typically higher than that of a vendor's website, and this makes hard-to-find items easier for consumers to locate and purchase
Finally, a third-party marketplace is ideal for bringing together buyers and sellers with common interests, hobbies or passions, such as gourmet food, cooking, painting, golf, cycling, knitting, and tennis. The list is practically endless!
The third-party marketplace opportunity
So just how important and lucrative have third-party marketplaces become?
Consider these telling statistics. Leading research firm eMarketer predicts U.S. e-commerce sales will grow 17.9% this year to $933.3 billion, comprising 15.3% of all retail sales. This spending level is forecasted to surpass $1 trillion next year.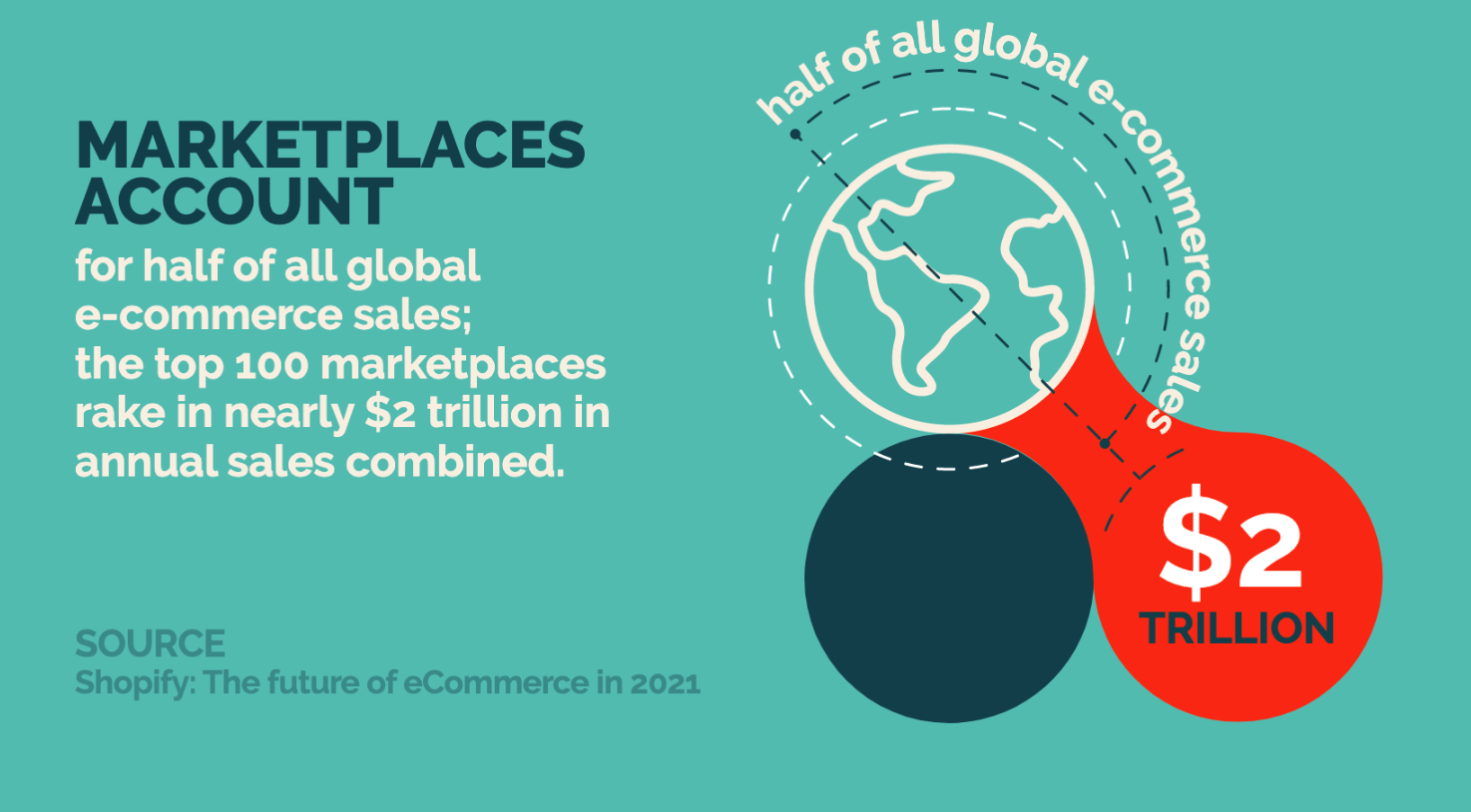 In 2021, worldwide e-commerce transactions will account for $907.68 billion, or 15.5%, of the expected $5.86 trillion in total worldwide retail sales. According to e-commerce platform developer Shopify, third-party marketplaces now account for half of this global sales volume, with the top 100 marketplaces raking in nearly $2 trillion in combined annual sales.As outlined in a recent Retail TouchPoints report, the volume of third-party marketplaces increased 81% year over year (YoY) in the fourth quarter of 2020, a figure more than double the already impressive growth rate of international e-commerce.
Furthermore, scores of highly-regarded American retail brands, including Anthropologie, Michaels, Target and Walmart, to name just a few, are now leveraging the power, benefits and effectiveness of third-party marketplaces to augment their existing e-commerce strategies.
Simply stated, the third-party marketplace opportunity is massive and highly attractive,growing by the minute, and accessible to businesses of all sizes, not just the Walmart's and Target's of the world.
How and when can a third-party marketplace work for you?
Since their introduction nearly 20 years ago, marketplaces have taken many different forms, but their common purpose has remained identical: provide easy, convenient locations for multiple sellers to congregate and offer customers curated selections of relevant products or services.
Third-party marketplaces also represent attractive options to companies wanting to avoid costly investments of time and capital to set up their own e-commerce operations, while still reaping the many financial and operational benefits these important assets deliver.
Going beyond the ease, relevance and convenience factors for end customers, how do you know if and when a third-party marketplace is a viable option for your brand?
Four common scenarios when determining if a third-party marketplace is right for you
Let's look at four common problematic scenarios which third-party marketplaces resolve, and how these solutions can determine if a marketplace is a right move for your company:
Dropshipping: Dropshipping is an important element of third-party marketplaces. Using this fulfilment model, an outside entity, usually a wholesaler or the manufacturer itself, ships the purchased product directly to the buyer so the marketplace operator does not have to acquire or warehouse expensive inventories of those goods, or handle them directly.
However, even when dropshipping is successful for a given company, it can be time-consuming to manage and difficult to scale up as e-commerce sales volume increases. A third-party marketplace, especially one powered by a robust marketplace-specific technology platform, can alleviate these pain points by making the entire process frictionless, more accessible, and easier to manage.
Expansion Into/Testing of New Verticals: For a company desiring to expand its e-commerce operations into different verticals, even on a temporary basis for testing, a third-party marketplace offers a relatively fast, inexpensive means to break into those domains, while reducing the risks with such a move and without having to invest in costly inventory. It's a low-risk, high-return play that results in increased revenue and higher customer acquisition rates.
Digital Transformation to Drive Significant GMV Growth: Greater numbers of companies are undergoing digital transformation, the process and integration of digital technologies into all areas of business so as to fundamentally change how it operates and delivers value to its customers. In most cases, the operational and financial reasons for such a transition are many, including improving the customer experience (CX), increasing productivity and collaboration, becoming more accessible to customers, and generating greater revenue and profitability.
For many firms, their digital transformations revolve around the creation and implementation of e-commerce strategies to continually drive GMV increases. A third-party marketplace makes GMV growth more achievable because a company doesn't have to carry expensive inventory or handle fulfilment or shipping when a product is purchased.
New Market Entry: Similar to expanding into a new vertical, a company can utilize a third-party marketplace to enter a new, ancillary market, such as the selling of refurbished goods, with relative ease and little cost or risk. As I previously mentioned, a marketplace is a very effective solution for expanding e-commerce operations and exploring new sales opportunities and product categories, while minimizing a company's financial investment and risk exposure.
We're also seeing this approach with testing new geographic market entries utilizing a phased approach to minimize risk and exposure while testing new regions and building relationships between marketplace operators and new sellers.


Conclusion
We covered only a few of the reasons third-party marketplaces are rapidly becoming important and useful, to both consumers and operators alike. For companies without e-commerce operations, or for those looking to expand their online sales footprints, third-party marketplaces represent practical options, for the many reasons outlined here (and more we can discuss on a call) that can truly benefit organizations on multiple levels.
If you're evaluating if a third-party marketplace is right for you, contact us and one of our marketplace specialists will be in touch.